Allentown Meet the Mayor Event!
Meet the Mayor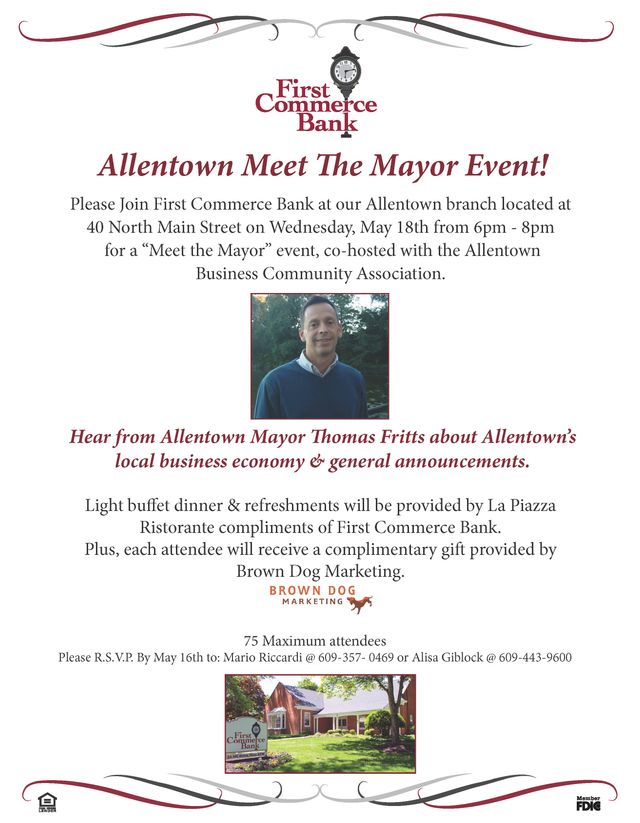 Description
Please Join First Commerce Bank at our Allentown branch located at 40 North Main Street on Wednesday, May 18th from 6pm - 8pm for a "Meet the Mayor" event, co-hosted with the Allentown Business Community Association.
Hear from Allentown Mayor Thomas Fritts about Allentown's local business economy & general announcements. Allentown Meet The Mayor Event! Light buffet dinner & refreshments will be provided by La Piazza Ristorante compliments of First Commerce Bank. Plus, each attendee will receive a complimentary gift.
Please R.S.V.P. By May 16th to: Mario Riccardi @ 609-357- 0469 or Alisa Giblock @ 609-443-9600

First Commerce Bank
40 North Main Street, Allentown, NJ 08501
6:00 PM EDT
to 8:00 PM EDT
Private:No
RSVP Required:No
Accept Registration Online:No