Witches Night Out 2022
Dress up, win prizes, have fun!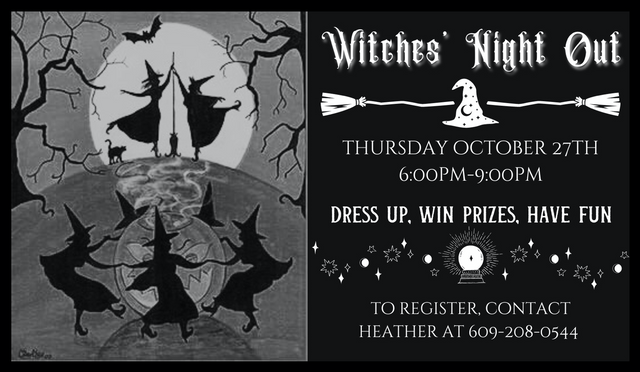 Description
Witches Night Out is a fun, ladies night out where you can dress up with your friends, get readings, win gift baskets at participating stores and receive a special gift from the Allentown Business Community Association (ABCA.) Registration begins at 5:30pm at Bruno's One Sweet Ride, with readings beginning at 6pm. Refreshments will be provided. Witches' Hat Contest 6pm – 9pm at The One Eyed Turtle. Winners will be selected by photo and receive a $25 gift card to spend anywhere in Allentown. Categories: Most Creative, Best Group, Best Traditional, and Best Overall. Register by calling Heather at 609-208-0544. Tickets are $35. Payments must be cash or check. First readings will be scheduled, and additional readings will be on a first come, first served basis.
Historic Allentown
PO Box 432, Allentown, NJ 08501
6:00 PM EDT
to 9:00 PM EDT
Private:No
RSVP Required:No
Accept Registration Online:No