Witches' Night Out 2020
The Legend of the Wailing Witch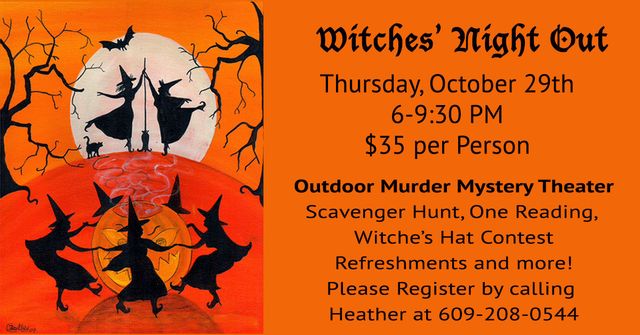 Description
Due to weather we are postponing this event. Questions & Refunds Please call 609-208-0544 Witches Night Out UPDATE
Join us safely for outdoor fun at Witches' Night Out, Thursday, October 29th, 6-9:30pm. Register in advance by calling Heather at 609-208-0544. This year, we will host Riddlesbrood Murder Mystery Theater Company for an outdoor interactive murder mystery The Legend of the Wailing Witch. Also included, one reading per person, for your scheduled time. Also included, Scavenger Hunt, Witches Hat Contest, Refreshments and more!
Note: Due to COVID-19, social distancing, masks, and crowd control will be in enforced. One Psychic Reading per person. No long lines in shoppes. Activities will primarily take place outside, so please dress for the weather in your best Witch Costume!
Please stay tuned for more information!
Tickets can be purchased at Bruno's One Sweet Ride!
Historic Allentown
PO Box 432, Allentown, NJ 08501
5:30 PM EDT
to 9:00 PM EDT
price
Private:No
RSVP Required:No